Page 164 – Interceram 3/2013 – REFRACTORIES MANUAL I/2013
57th Brazilian Congress on Ceramics – 5th Ibero-American Congress on Ceramics
R. Salomão*
Organized by the Brazilian Association of Ceramics (ABCeram), the 57th Brazilian Congress on Ceramics (BCC) was held from May 19–22 in Natal, capital city of the Brazilian State of Rio Grande do Norte. In this edition, that also included the 5th Ibero-American Congress on Ceramics, over 560 delegates from 10 different countries (Brazil, Portugal, Spain, Chile, Argentina, Mexico, Colombia, Uruguay, Grenada and Germany) attended the 15 presentations, 5 minicourses and 3 round tables and panels. A total of 766 works divided in 15 technical sections (raw materials, powder synthesis, whiteware, traditional, tiles and bricks, cement and plaster, refractories, glass and vitroceramics, thermomechanic ceramics, electro-electronic, bioceramics, recycling and environment, art and design, nanotechnology and processing) were presented as posters and oral presentations.
The event was chaired by Dr. Wilson Acchar, Universidade Federal do Rio Grande do Norte, UFRN. The co-program was coordinated by Dr. Sônia R.H.M. Castanho, Instituto de Pesquisas Energéticas e Nucleares (IPEN), Dr. Dachamir Hotza, Universidade Federal de Santa Catarina (UFSC), and Dr. Samuel M. Toffoli, Universidade de São Paulo, USP, and also President of ABCeram. The BCC has occurred annually since 1954. As the oldest and most important event of the field in Brazil, it gathers academics, students (undergraduate and post-graduate), industries and research centers and also presents an expressive foreign participation.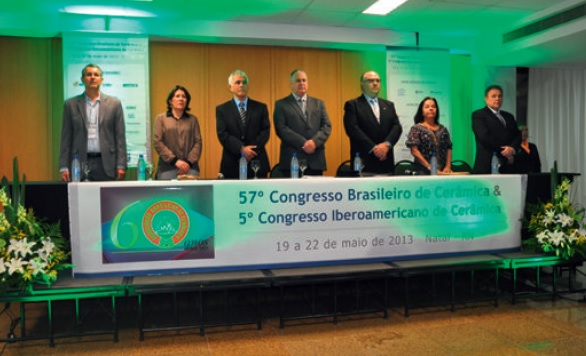 Opening ceremony of the 57th Brazilian Congress on Ceramics – 5th Ibero-American Congress on Ceramics
Some highlights on the technical program
At the opening ceremony, the key-note speaker José S. Moya, Instituto de Cerámica y Vidrio, Madrid (Spain), presented a review on inorganic biocides based on Na-Ca glasses containing Ag and C nanoparticles. He also highlighted some difficulties and opportunities for R&D and students exchange worldwide. During the presentations, Ana M. Segadães, Universidade de Aveiro (Portugal), talked about the realistic use of ternary phase diagrams on ceramic processing; Geraldo C.D. Trujillo, Universidade Autônoma Baja Califórnia (Mexico), discussed the use of several types of solid wastes as raw material for vitroceramics and Rodrigo Martins, Universidade Nova de Lisboa (Portugal), presented a lecture about paper based electronics. During the panels, topics such as governmental and private policies for R&D funding, recycling and environment protection, international commerce and market for the Ibero-American community were discussed. Other technical invited presentation discussed themes related to R&D on tiles industries (Anselmo O. Boschi, Universidade Federal de São Carlos, Brazil), use of electrofused raw materials in ceramic industries (Cláudio H. Martilns, Elfusa Geral de Eletrofusão Ltda., Brazil), 3D-printing of refractory ceramics (Jamil Duailib Filho, DNCer Indústria e Comércio Ltda., Brazil), characterization of ceramic products and raw materials (José V. Emiliano, Netzsch do Brasil, and Leandro Almeida, PANalytical, Brazil) and multilayered structures produced by slip casting (Rodrigo Moreno, CISC, Madrid, Spain), among others.
The mini-courses presented topics on processing traditional ceramics and colloidal suspension, characterization of ceramics by ultrasound and Rietveld method and transparent electronic devices.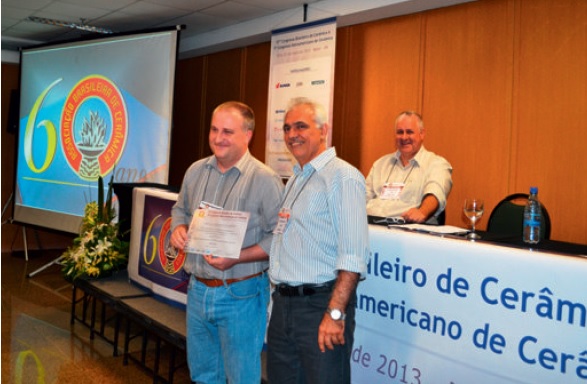 Rafael Salomão (at the left) receiving the prize for the best paper presented at the 57th Brazilian Congress on Ceramics – 5th Ibero-American Congress on Ceramics
Several prizes for the best papers presented were given during the closing ceremony. Amongst them: "Study to reveal the microstructure of silicon carbide sintered by liquid phase using sodium tetraborate" (best ceramography presented at the 57th BCC), authored by T.A.S. Maselho, G.C.R. Garcia and Sebastião Ribeiro, Escola de Engenharia de Lorena (EEL-USP), Brazil; and "Filamentous alumina-chitosan porous structures produced by gelcasting" (best paper presented), authored by Rafael Salomão and Jamile Brandi, Escola de Engenharia de São Carlos (EESC-USP), Brazil. Further information: http://metallum.com.br/57cbc/iberocer2013/
* Prof. Dr. Rafael Salomão, Materials Engineering Department, São Carlos School
of Engineering, Avenida Trabalhador São-carlense 400, São Carlos-SP, Brazil.
E-Mail: rsalomao@sc.usp.br