Journal – Materials Research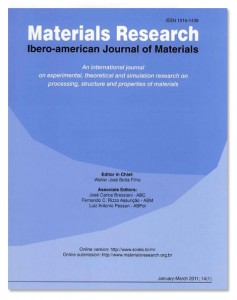 The journal 'Materials Research – Ibero-American Journal of Materials, ISSN 1516-1439,  is an international journal on experimental, theoretical and simulation research on the processing, structure and properties of materials.
This journal is being published by ABC-The Brazilian Ceramic Association, ABM-Brazilian Metallurgical and Materials Association, ABPol- Brazilian Polymer Association, SBCC-Brazilian Society for Crystal growth, SBCr-Brazilian Crystallography Society, SBMM-Brazilian Society for Microscopy and Microanalysis, SBPMat- Brazilian Materials Research Society, since october 1998.
The articles, since the 1º issue in October 1998 are available in Scielo-Brasil.
Chief Editor: Walter José Botta Filho
Contact: wjbotta@ufscar.br
Support: