Journals - Ceramics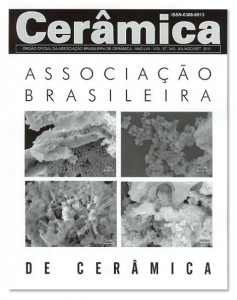 The Journal 'Ceramics', an official organ of the Brazilian Ceramic Association, publishes original contributions in the area of ceramics, covering ceramic art, abrasives, bioceramics, advanced ceramics, white ceramics, ceramic tableware, eletroeletronic ceramics, structural ceramics, magnetic ceramics, nuclear ceramics, optical ceramics, chemical ceramics, thermomechanical ceramics, red ceramics, cement, ceramic matrix composites, refractory materials, coating materials, raw materials, glasses and glass ceramics, microstructural analysis, basic sciences, instrumentation, manufacturing processes, powder synthesis, characterization techniques etc.
The Journal 'Ceramics' is a trimestral publication of the BCA, ISSN 0366-6913 (print version) and ISSN 1678-4553 (on-line version), and has been published since 1955. Three hundred (300) copies are printed and distributed to members of BCA and to libraries in Brazil and other countries.
In Scielo-Brasil the articles available are from issues starting with the numbers 281/282 of 1997.
The previous issues of this journal have been digitized and will be available shortly.
Chief Editor: Reginaldo Muccillo
Contact: ceramica@ipen.br
Support:


CAPES;
Ministry of Education;
Federal Government; BRAZIL – A RICH COUNTRY IS ONE WITHOUT POVERTY;
CNPQ – 60 years
Address: Av. Prof. Almeida Prado, 532 – Building 36 – City University – São Paulo/SP.